For IT support, please lodge a support ticket and we will get back to you as soon as we can to help you resolve your issue.
For Aldinga Media remote IT support, please ensure you have contacted us prior to going ahead with the following procedure.
AnyDesk
Download and run the AnyDesk remote support app. (Links below)
This version does not require full installation or Administrator rights.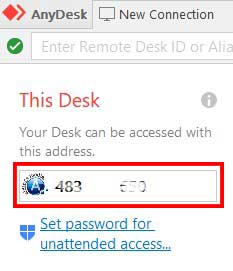 When you are on the phone to us you can tell us the 9 digit ID address (Shown in the red box) for us to connect to your PC remotely.
Or to make it easier for us you can have the application running and copy and paste the ID and set an unattended access Password in the following form.
Tell us your ID and Password